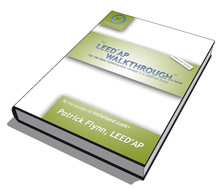 "The

Most Helpful

and

Inexpensive

Study Guide you Could Possibly Get."
Don't you want to pass the LEED AP Exam as fast as possible without having to read all 400+ pages of the Reference Guide? Don't you want to pass now before the newer and harder LEED 2009 exam starts soon? You're in luck! The only guide you'll ever need is right here, and I promise it will help you understand everything you need to know.
I wrote The LEED AP Walkthrough to give you the best chance to pass your exam. Read what real people are saying about it: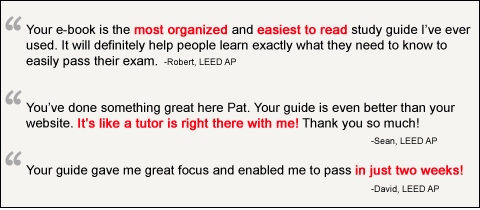 Which of These Powerful Tools Would You Use to Help You Pass your Exam?

Complete and Outlined Summaries of Each Prerequisite & Credit

Sidebar Navigation Menu with Clickable & Expandable Links to Any Section

A Complete Bullet Outline of The Entire LEED Certification Process

Brand New Charts & Tables To Neatly Organize Tons of Information

Compatible With Any Edition of the LEED Reference Guide

Information on How To Get Started & Where to Sign up For the Exam

How to Get the Most from Practice Tests & Which Ones are The Best to Use

Personal Tips From Me Throughout the Entire Guide

Plus Lots More!
Okay, so what's the cost for this Incredible Resource?
Well, realize that this resource could easily sell for over $100. I could easily sell it for $50.00 or even $40.00. That's already way cheaper than ALL of the study guides available for you today. In fact, your total investment for The LEED AP Walkthrough is only $34.95! $29.95!
IMPORTANT NOTICE
The last day to register for the current version of the exam is March 31st, 2009 . After this date, registration will be closed and you'll have to wait for the new version of the exam to be administered later this year.
The last day to take the current version of the exam is June 30th, 2009 . After this date, NCv2.2 and CIv2.0 will be retired. Please note that if you take your exam after March 31st, 2009 and fail, you cannot re-take the exam and will have to wait for the new version to come out.
Update (March 31st): The GBCI.org website went down, and because of this, there is an announcement on the USGBC.org homepage that the registration deadline has been extended to April 1st, 11:59pm.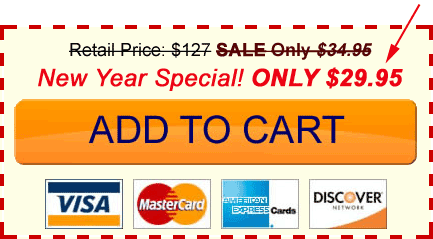 OR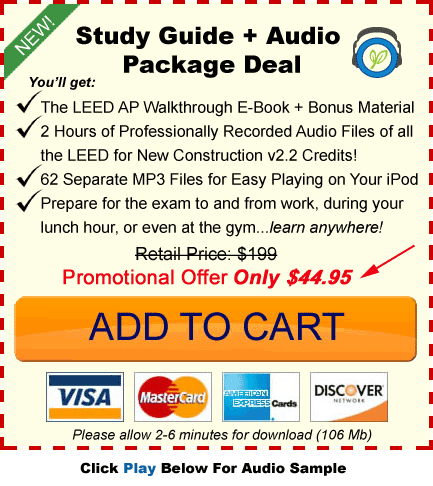 CLICK HERE IF YOU ONLY WANT TO PURCHASE THE AUDIO
Instant Download! No More Waiting For Days For Your Guide!

No More Lugging Around A Heavy Text-Book!

Electronic Format Saves Trees!

Easy Buttons to Print Only the Sections or Pages You Want!

Easier to use. Easier to understand. Easier to Pass!
So what's the catch? Why am I practically giving this resource away?
Well, it's simple. I want The LEED AP Walkthrough to be the most inexpensive guide you can buy. Plus, you're already paying a lot money to take the exam. Why should you spend way more?
3 FREE BONUS GIFTS INCLUDED!

Bonus #1: My

Top 11 Tips

to Help You Pass the LEED AP Exam, including:

The WIMSEE Chart, New and Improved

Understanding EP & ID Credits

The Most Common Referenced Standards (Chart)

The Decision Makers of LEED

An Up-Close Look at A Typical LEED Exam Question

Understanding LEED Synergies

How To Choose the Right Sample Exams

How to Effectively Use Practice Tests

The Four Categories of LEED

Exam Day & 10 Minutes Before the Exam

Plus more…

Bonus # 2: EXERCISE #1 Fill-In-The-Blank Exercise (65 pages)

Bonus # 3:
EXERCISE #2
Matrix Exercise (13 pages)
Easily a $50.00 value for ABSOLUTELY FREE! (For a Limited Time Only)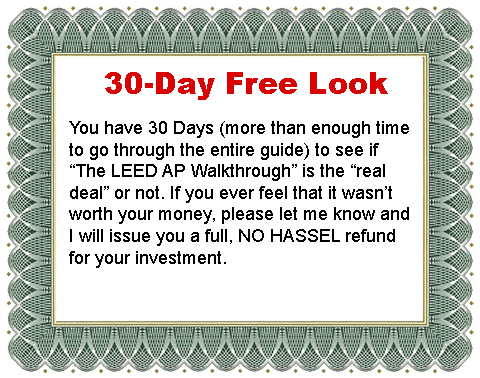 There is no risk whatsoever on your part. The burden to deliver is entirely on me.
You can't really afford not to invest in The LEED AP Walkthrough. It's easy to get started. Just click the button below, and an email will be sent to your email address. In it will contain a link to download the book onto your computer. It's that simple.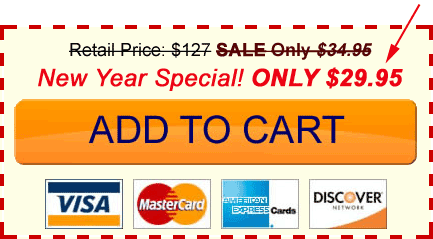 OR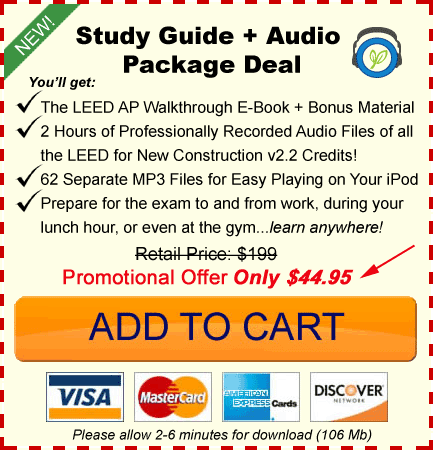 Still Not Convinced? Want to see what it looks like inside? Take a peek below: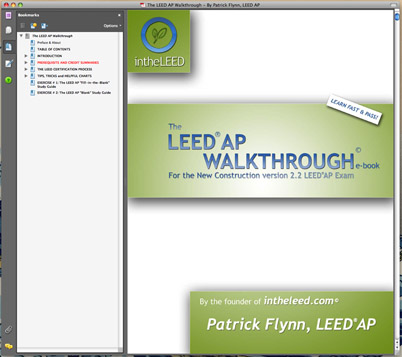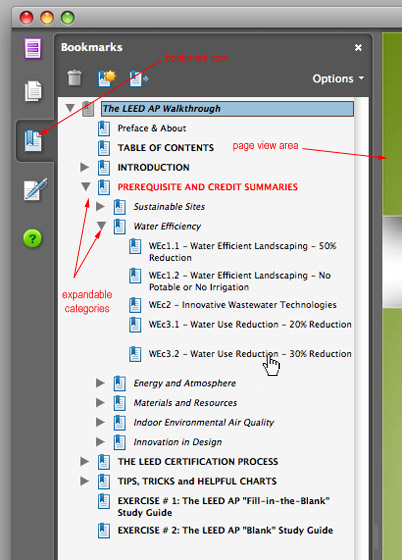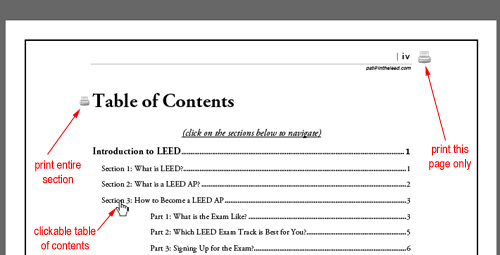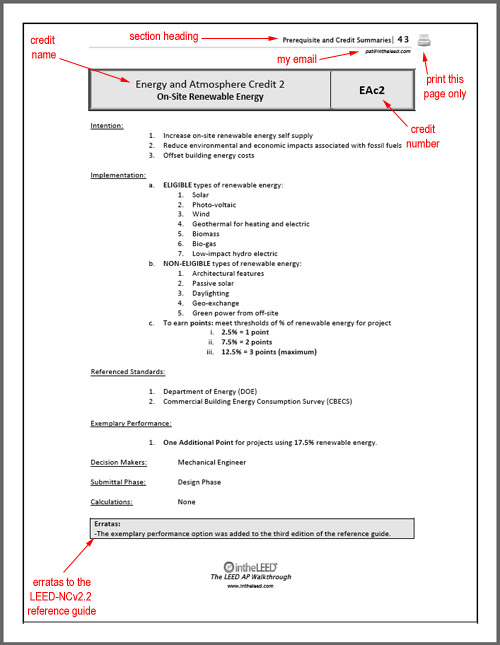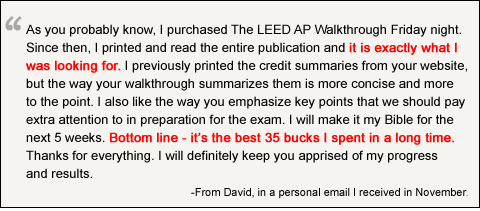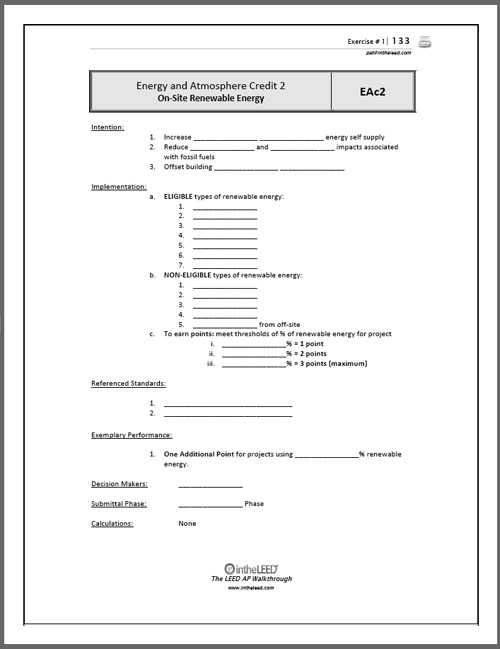 More Testimonials From Satisfied Customers! (Updated 2/08/09)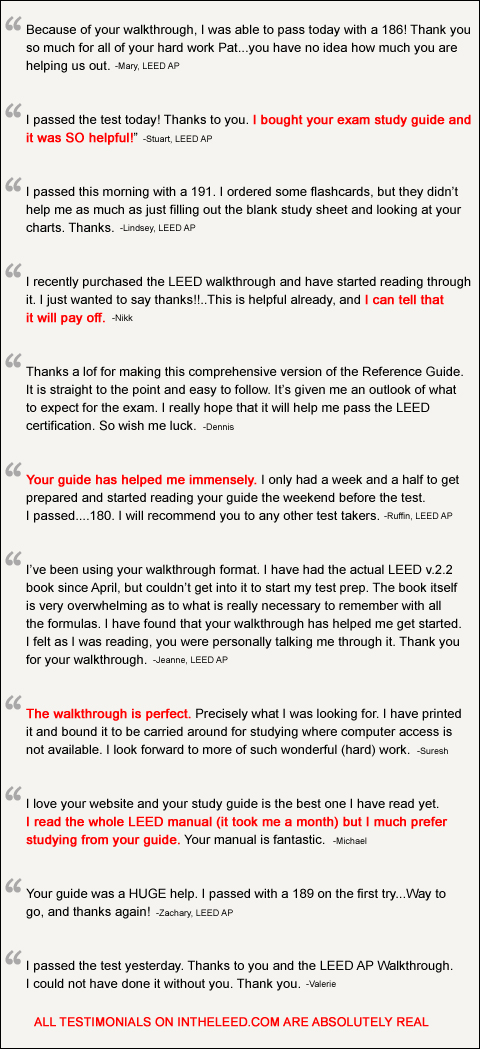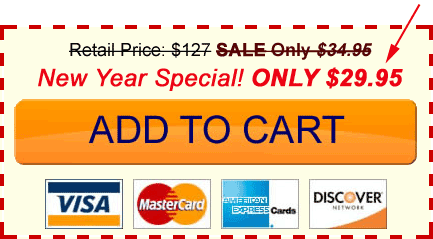 OR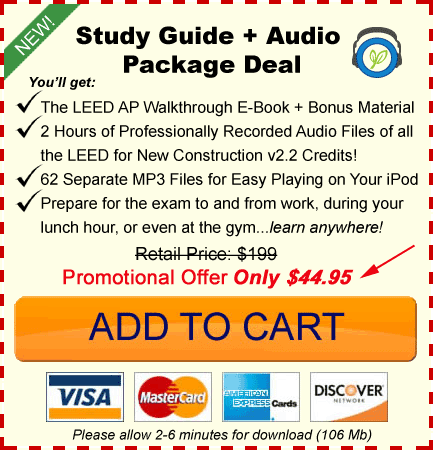 Thanks for taking the time to read this. I wish you the best of luck on the exam.
Sincerely,
Pat Flynn, LEED AP
p.s. Just think! You'll never again have to worry about what to study, how to study, or what to do next!