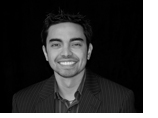 Hi! My name is Pat and I'm the guy behind GreenExamAcademy.com. (formerly intheleed.com) I graduated with a B.A. in Architecture from the University of California Berkeley, and was working in an Architecture firm for the last few years in Southern California.
I'm really just a guy who once had a goal to pass the LEED AP Exam. As a young professional in the field of Architecture, I felt it was the next logistical step to take to further my career. Also, because of the issues surrounding our planet today, I was especially interested in all that LEED stands for. I started studying for the exam in December of 2007, but soon noticed that the information I needed to know was pretty dense and not easy for me to personally understand. I needed organization, charts and helpful tips from others. Nothing of that sort really existed for LEED on the Internet, so I figured I'd do it myself. And thus, greenexamacademy.com was born.
I organized my notes, read all of the study guides, took a class and spoke to a bunch of people and placed all of that information online so I could easily access my notes from anywhere to help me understand. Little did I know, I was starting something big. Since greenexamacademy.com's launch in February of 2008, I've passed the LEED AP Exam on March 28th, 2008 and have had about 500,000 visitors (over 3 million pageviews!) use it for help – and the numbers keep growing! Again, I'd like to thank you for using greenexamacademy.com!
The best part about all of this is the response I've been receiving from people like you. All of the thanks and praise for my hard work has driven me to work even harder on the website – to continue updating the information on the website and provide the world with the best LEED information possible. I smile each time I hear someone has passed because of me. Your contributions through your comments and continued use of greenexamacademy.com are very much appreciated.
You could say that my work with greenexamacademy.com is my way of helping the environment. I'll admit that I have yet to personally work on a LEED project myself, but if I can help tens of thousands pass their LEED AP Exam, and they work on LEED projects themselves, then I feel like I'm making a huge impact.
I dedicate this website to my wife April, and our soon to be born baby. Wish us luck!!!
If you're new, again I'm here to help you, so if you have any questions or comments (or suggestions!) about anything, please feel free to contact me anytime.
Best of luck to you all! Cheers!
-Pat